Description
Access this top of the Aiguille d'Argentiere via the Milieu Glacier or by climbing the route its self from the starting from the Salena Glacier.  Often badly corniced at the top and difficult to find in good condition due to its easterly aspect. Turn left out the bottom and head round to climb up the back of the Col Du Chardonnet and drop back down to the Argentiere Glacier to get back to Chamonix.
Aspect: East
Grade: D, 5.1
Gradient:  45° for 400 m
Height gain: 1130M
Height of Summit: 3900M
Gallery 

+
Videos 

+
http://www.dailymotion.com/video/xlc9n5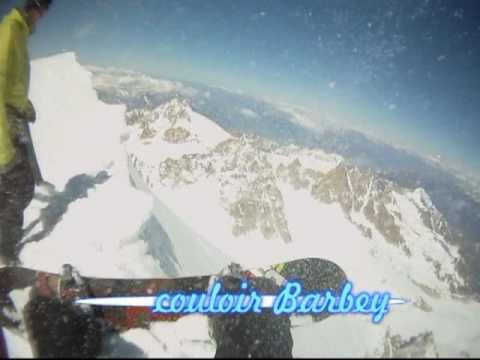 Blogs 

+
Skiing and climbing photos – galleries from adventures and expeditions
ally swinton blog: Barbey Couloir.
Aig. d'Argentiere – Voie Gabarrou 08.05.2012 – Luca Pandolfi.
Barbey Variation | Ross Hewitt.
Map